March 9, 2022
by nickgardener
Latency Blog Part 3 – How THG ICS Combat High Latency
Let's round off our latency deep-dive by revealing how we provide strong, stable, speedy connectivity to users across the globe
So now we know what latency is, and what the main causes of latency are. Now we need to deliver high quality, low latency connectivity to all of your sites, users, and products; but you don't know how to do it alone, and it can be really difficult to deduce which server provider will be the best option for you.
A 20-year veteran in the hosting world, Ingenuity Cloud Services support millions of sessions every year, and we are intimately familiar with all the causes and effects of latency.

Through our experience in this field, we've compiled all the resources you need to remove the risks of high latency all the way to the user!
Keeping Users Close to the Action – Aligned with Tier 3 & Tier 2 Data Centres In Every Major Business Hub In The World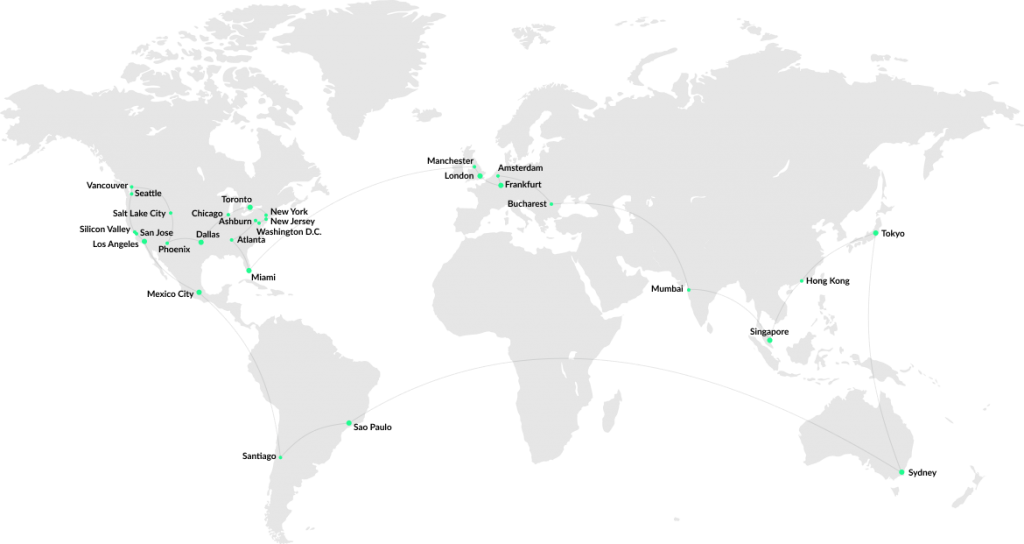 Worried about how the distances between the users and the server could create high latency? When you're partnered with us, you have no need to worry.
We have high-tier data centres in over 30 locations, including Europe, AsiaPac, and North America, providing industry-leading connectivity to businesses in every single major business hub across the globe.
This means that when you partner with us, your users will always be located to well positioned, thoroughly provisioned Data Centres that are already providing low latency connections to businesses all around the world- and we're ready to give you a strong, fast, reliable network infrastructure to you too!
Handling The Rush – Multiple Tier-1 Carrier Peering, and Exclusive Connectivity for High-Speed Routes to Your Users

At THG ICS, we have developed a range of technical solutions to ensure that you can always have a fast route to your destination, no matter how much traffic is competing for your space.
To ensure that traffic blockades don't occur in our networks, we utilise high-capacity switching fabric to ensure that traffic never needs to slow down as it travels through our Data Centres.
In addition to this, we are constantly monitoring the traffic levels of all our routes to customers; when one route begins to experience high levels of traffic, we divert traffic to alternative, high speed networks, to prevent performance losses.
It's like when your Sat Nav detects traffic further down the road, and gives you an alternative route- it saves time on the journey, and makes the passenger happy as a result!
The end result is that we give fast, reliable connectivity to all our users, all the time!
The Show Must Go On – Multiple Resiliency Factors To Prevent Outages

Naturally, you will want to know that your chosen hosting partner has a reliable resiliency plan in place to ensure that your games will continue to be accessible, even when things don't go according to plan. At ICS, we have designed our infrastructure around enterprise-grade resiliency to ensure that all our customers have steady, constant, high-speed connectivity, even when technology takes a turn for the worst.
If you partner with us, you will be supported by a network that has three independent carriers providing connectivity to all of our Data Centres in the major business hubs, to ensure that in the unlikely event that we lose connectivity from one carrier, we can pass all of the traffic onto the remaining two to ensure business operations can continue smoothly. All our servers have extra bandwidth capacity to ensure that any re-routed traffic will have the space it needs to operate at maximum capacity, without impairing the traffic that was already utilising the routes.
You will have access to multiple interface designs which can be tailored to be public or private to comply with your business application requirements, without risking security in the instance that you want to run an application that does not utilise a private interface. The multiple switches that support this customisable interface system also provide you with a failover that will support customer operations in the instance that one of our switches malfunctions, to ensure operations continue smoothly.
We regularly audit and upgrade the technology that supports our server network, to ensure that we have a cutting-edge infrastructure that removes the possibility of out-dated tech from failing at critical moments, and to ensure that our speed and redundancy policies are enterprise-grade in any circumstance. This means that you'll be running your business on the most advanced hosting technology, for a faster, more resilient hosting experience.
You will also be supported by teams of experienced network engineers that are constantly monitoring the qualities of all our networks across the globe to ensure that any minor problems can be addressed in a timely manner.
And to back up everything here, we're happy to put our money where our mouth is and give you a 99.995% Uptime Guarantee, because we know that we're going to keep your business, websites, products, and services up and running all day, every day, all year round. When you partner with Ingenuity Cloud Services, you are partnering with a hosting provider that has always gone the extra mile to keep our customers online, and you are choosing a network that won't fail you- period.
You Need Fast, Reliable, Cost-Effective Infrastructure, and You Need It Now – Get In Touch

Ingenuity Cloud Services support organisations all across the globe, hosting millions of user sessions every year, and are in an excellent position to give your business the best connections available on the market.
We have the best technology, years of experience in the hosting industry, a veteran team of architects, engineers, and support staff, advanced security, market-leading resiliency, and flexible billing options, and it's all available for your use today.

Get in touch with our account management team to begin the conversation, and see if we can take your infrastructure to the next level.

March 9, 2022
by nickgardener
Content Manager for Ingenuity Cloud Services. I spend my days learning and writing about all things Infrastructure, and spend the rest of my time working out, socialising with friends, or listening to podcasts on the latest updates in the IaaS world!