April 26, 2022
by nickgardener
How to Reduce your Public Cloud Spend
How the Resurgence of Bare Metal Servers marks a Transition in Cloud Adoption Theory
If you're spending a lot more than you expected after moving large amounts of your business to public cloud solutions like AWS or Azure, you won't be alone.
Public cloud billing is notoriously complex, and there are a huge range of circumstances that lead to unexpected price surges and unaffordable bills for companies heavily invested in Public Cloud infrastructure that make it hard to understand what you're being charged for, and more importantly, what you can expect to pay next month.
This can make business-wide cloud adoption fundamentally cost ineffective, and it's been the driving point behind a transition in cloud adoption theory.

Where businesses were once rushing to move everything to the cloud as fast as possible, they're now beginning to realize that not everything needs to be in the cloud. Instead of moving towards an entirely virtualized environment, businesses are now designing environments that combine both cloud and physical infrastructure to harness the best of both worlds, and Bare Metal servers are at the heart of this growing, industry-verified practice.
To understand this shift in adoption theory, let's take a closer look at the financial drawbacks of public cloud, and why dedicated hardware as a service is providing a solution.
The Problem with Public Cloud
Public Cloud solutions are great because they're flexible, scalable, feature-rich, and users can be onboarded on very short notice with significantly lower initial costs than the costs needed to build and own private cloud infrastructure.
However, even though public cloud solutions have lower costs than building yourself a private cloud, they are by no means low cost.
Every component of public cloud infrastructure has an independent pricing model, and every workload hosted in public cloud can result in bills that are much higher than what the recipient expected to pay. This 'sticker shock' is due to the complexity of pricing involved with public clouds, which prevent organisations from truly understanding just how much their cloud-based workloads will really cost.
Optimising and managing public cloud environments is notoriously difficult, and inexperience in optimising resource configuration is a serious problem that costs businesses much more than they should be paying based on their intended usage.
This inexperience can manifest itself in a number of ways, including;
Poor Workload Management – This includes workloads bursting above the initially agreed capacity, or VMs not being turned off once workloads are finished
Overprovisioning of storage and compute resources
Storage Blocks that are unused, or aren't attached to compute instances
Overbuying instances, and poor usage of existing instances
And the consequences of poor resource management are compounded by huge fees that are built into public cloud offerings. There are bandwidth charges, load balancing costs, cost per GB, costs per VM, data egress charges, services that charge by the minute which can be mistakenly left on for hours or even days, VPN charges, storage fees, and more. These extra fees will often overlap each other too, which will unexpectedly blow up a monthly bill to be much higher than originally expected.
The Consequences of Public Cloud Billing
The complexity of pricing, the difficulty involved in effective resource management, and the subsequent unpredictable billing have made large scale public cloud adoption fundamentally cost-ineffective for a lot of businesses.
There are three classic cases;
Businesses running high-bandwidth or high data-egress workloads, such as streaming video and cloud-based data aggregation, will often get brutally-high data egress charges due to the huge amount of data that will need to be moved for each workload.
This can be a real killer for data aggregation, as once you've collected your data in the cloud, there is literally no way to access it other than to try to compress the data as much as possible to reduce the eye watering data egress fee.
Businesses who have run out of 'free credits' designed to keep the bills lower for the first few months will often find their cloud bills growing over time without much recourse, and without any way to reduce the costs once workloads had been moved to the cloud. This can impact any business based in the cloud, but this can be particularly devastating to SMEs, who began utilising public cloud offerings to enable technological growth on a small budget.
Businesses that don't have the technical expertise to use public cloud effectively, and are paying for resources that they're not actually using, or who failed to anticipate the impact of the 'hidden' charges that would accompany a new workload being moved to the cloud. (This happens a lot, so don't feel bad if this has happened to you)
But there are really countless ways that companies can get caught sleeping at the wheel when it comes to public cloud offerings like AWS or Azure.

All it takes is a project to go over the agreed resource, take longer than initially expected, or to send too much data over the wrong routes for the monthly bill to suddenly skyrocket, and for the amazing benefits that public cloud brings to the table to suddenly feel less valuable.
That's why, over time, the market's approach to public cloud has become more diversified, to ensure that businesses can still make the most of PC flexibility, whilst also reigning in the costs and reducing the chances of wallet-breaking invoices.
The Evolution of Public Cloud Adoption Theory
'Sticker shock' billing has been the driving force behind a shift in the market's cloud adoption mentality. Where industry once charged into the cloud headfirst, migrating as much as they could, as fast as they could, businesses have now shifted towards creating hybridized IT infrastructures that reduce public cloud dependency for lower, more consistent billing.
For some businesses, this has led to the rise of multi-cloud environments, where the end user can benefit from the strengths of different cloud providers, whilst moving away from vendors who charge more than the value they provide.
However, there's a large contingent of businesses who have begun to move away from a pure-cloud environment, deciding to re-focus their cloud adoption strategy by targeting it exclusively towards the areas of their business that will benefit from it the most, while migrating the rest of their infrastructure to traditional hardware, to support the rest of their infrastructure for solid performance, and reliable billing.
This increasingly popular approach has led to the resurgence of Bare Metal IaaS as a key component of cloud adoption and marks a significant shift in the way companies are approaching cloud adoption over the course of the 2020s.
The Right Tools for The Right Job – Optimizing Cloud Adoption with Bare Metal Servers
Bare Metal Servers, also known as 'Dedicated Servers' or 'BMS', are the cornerstone of the IaaS industry, and are by no means a replacement of cloud solutions.

Instead, Bare Metal is experiencing a resurgence to augment cloud adoption. It provides a strong, dedicated foundation that has the power to support an entire enterprise-grade infrastructure, whilst also being billed on a flexible monthly basis.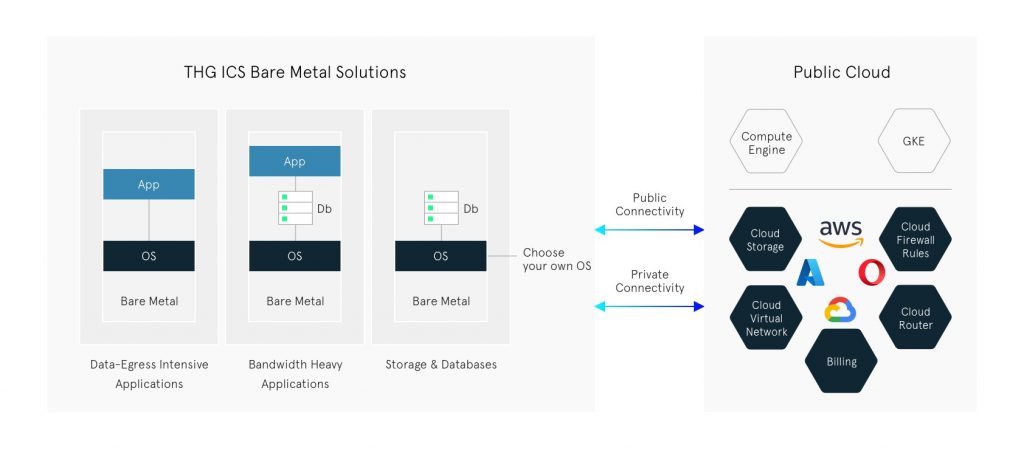 The idea behind Bare Metal Enhanced Cloud integration is to use bare metal to support all workflows that either won't benefit from being placed in the cloud, or that lead to unexpected charges that prevent business-wide public cloud integration from being cost-effective.
It's also had a resurgence as companies realize that the cloud is naturally not suited to power HPC workloads, as the virtualization of cloud technology simply adds another layer that only serves to slow down any high performance workloads that are placed into the cloud.
The integration of Bare Metal into cloud adoption strategies and cloud-heavy environments is a process that's becoming increasingly popular over time. It's a reliable way to reduce monthly spend whilst maintaining an OpEx financial model, and simultaneously providing more dedicated resource and higher performance to the parts of your business that won't benefit from cloud integration.

And since connecting new physical infrastructure to cloud-based environments is now much more easily achieved, these cost optimizing & power enhancing exercises can be completed very efficiently, and without any business interruption.
Going Hybrid – Bare Metal Integration with Public Cloud Environments
Bare Metal Servers are growing in popularity in Cloud Adoption strategies for three simple reasons. They combine the benefits of flexible monthly billing with greater performance, drive more dedicated resource to workloads, and provide stable, predictable billing that won't leave you with bill-shock.
It's a cost-optimising exercise that has the added benefits of providing increased performance. And with the THG ICS global enterprise-grade network infrastructure, you can introduce bare metal to your infrastructure anywhere on the globe, and immediately get the benefits of faster connectivity, higher bandwidth capacities, and lower monthly costs.

If you'd like a consultation on how bare metal servers can optimise your cloud infrastructure or cloud adoption strategy, get in contact with Ingenuity Cloud Services, and we'll call you back within 24 hours.

Don't just take our word for it.
Take our network for a spin.
April 26, 2022
by nickgardener
Content Manager for Ingenuity Cloud Services. I spend my days learning and writing about all things Infrastructure, and spend the rest of my time working out, socialising with friends, or listening to podcasts on the latest updates in the IaaS world!